Master Distributor & Authorized Vendor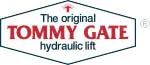 Trust the Liftgate Experts to Recommend the Best Liftgate for Your Needs
Mobile Lift Gate is an approved distributor and installer for today's leading liftgate brands: Palfinger - Interlift, Waltco, Tommy Gate, MAXON, Anthony Liftgates, Leyman Lift Gate, Thieman Tailgates, and DHollandia. We have more than 45 years of experience and tens of thousands of satisfied clients across Los Angeles, Ventura, Riverside, Santa Barbara, and Orange Counties. By working with our experienced technicians, you are certain to get the right liftgate for your needs at a fair and competitive price.
Custom-Fit, Professional Liftgate Installation by Manufacturer Trained & Certified Technicians
Because liftgates are such a specialized product, it's important to work with a reputable liftgate company to decide which liftgate will meet your needs and budget, and ensure that it is properly fitted and installed for safe, reliable, and long-lasting operation. At Mobile Lift Gate Service, our liftgate sales and installation services are provided by some of the most knowledgeable and highly skilled liftgate technicians in Los Angeles. Our techs average 20+ years of experience, are factory certified, and receive ongoing training from our manufacturers. Because they are familiar with all of the different liftgate makes and models, you can rely on them to determine which liftgate will best match your needs by considering how you plan to use your liftgate, the make and model of your truck, the size and weight of the loads you plan to move, and your budget.
Competitively Priced, Name-Brand Liftgates for All Types of Jobs, Trucks & Budgets
We have rail gates/rail lifts, tuck-unders/tuckaways, Tommy gates, column-type lift gates, side-mount lift gates, side loader lift gates, slider lift gates, two-stage lift gates, tail lifts, cantilever lifts and conventional liftgates that fold up, retract, or fold away, with lift capacities ranging from up to 1,300 to 8,000 pounds. These lift gates can be installed on vans, box trucks, pickup trucks, delivery trucks, bottle trucks, bobtails, and semi-trailer trucks for moving all kinds of inventory, machinery, or equipment. All of our liftgates come backed by excellent manufacturer warranties. Call today to schedule a liftgate sales consultation anywhere in the Greater Los Angeles area. Most lift gates can be fully installed within two to four days after the order is placed.
Don't let winter weather keep your lift gate down.
Book your 50-point preventative maintenance appointment today!

Have You Serviced Your Lift Gate Lately?
Did you know that servicing your Lift Gate can help prevent downtime and costly emergency repairs?
Our 50-point Preventative Maintenance package includes:
Complete oil change and and system flush
Inspection of all electrical components, hoses, valves, pump and motor assembly, cylinders, and welds
We check for leaks, and lubricate all appropriate parts: pins, pivot points, rails, etc
We check lift gate for proper operation and alignment
Finally, we assess any damage to the lift gate and make recommendations for repairs (if applicable)
Prolong the life of your Lift Gate. Schedule a service today! Call (310) 323-5841
Reviews
These guys are awesome! Our lift gate broke down, we brought it in and they jumped right on it. They also install lift gates.
Contact Us
Location Map